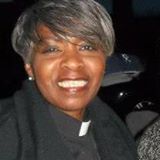 Pastor Cheryl Ruffin

Pastor Cheryl Ruffin accepted her call into ministry in and to pastor in 2004. She has served as the pastor of St. Paul AME Church since 2010. A graduate of Shippensburg University of Pennsylvania, Pastor Ruffin is a charter member of the NuNu Chapter of Delta Sigma Theta Sorority, Inc. She holds a Masters Degree in Divinity from Payne Theological Seminary and plans to begin coursework on a Doctorate in Ministry from Pittsburgh Theological Seminary in the fall.
In addition to her role as a pastor, Pastor Ruffin works as the Manager of Affirmative Action for the University of Pittsburgh. As a 22 +year employee, Pastor Ruffin was a past recipient of the Chancellor's Awards for Excellence in Service to the Community, she was recognized as the November 2010 Center for Diversity and Inclusion – Dignity and Respect Champion, in 2014 was named as one of the Women of Excellence by the Pittsburgh Courier and is in Who's Who in Black Pittsburgh. Pastor Ruffin believes in the importance of service and prepared and effective leadership which has led to her involvement in Coro Pittsburgh's Women in Leadership and GTECH Strategies, ReClaim South Pittsburgh Ambassador programs.
Pastor Ruffin has been married to her husband, Thomas for over 30 years. She is the proud mother of four – Jessica, Kirby, Whitney, and Gordon, and an even prouder grandmother of three – Xavier, Danyel, and Mia.
Pastor Ruffin attributes her accomplishments and continued service to the community to the strength she receives from the Lord. One of her favorite scriptures is: "One thing have I desired of the LORD, that will I seek after; that I may dwell in the house of the LORD all the days of my life, to behold the beauty of the LORD, and to enquire in His temple. ~Psalms 27:4